The AHIF Charity Run
Sponsored by DERBA MIDROC CEMENT

Bench Events were delighted to organise a Charity Run at AHIF 2019 in Addis Ababa, in support of local charity AHOPE Ethiopia. The run was hosted by none other than Ethiopian Olympic gold medallist and four-time World Championship title holder Haile Gebrselassie. Despite the heavy rain on the Wednesday morning, spirits were not dampened and over 50 people joined in on the jog around the Sheraton grounds.
We were thrilled to raise a total of $15'000 for AHOPE, thanks to the generous contribution of our charity sponsor Derba Midroc Cement and several individual donors. We held a surprise auction during the evening reception at the Hyatt Regency, with multiple delegates bidding for the shirt worn by Haile Gebreselassie during his victory at the Berlin Marathon in 2006, breaking a world record at 2:05:56. The winning bid took the prize at $5000, which covers the costs for the education of 500 children for a whole year. The remaining $10'000 will go towards AHOPE's Family Preservation and Economic Empowerment programmes.
                             

AHOPE was established in 2004 in response to the grave plights of HIV positive orphans. It provides specialized care and support to HIV positive children, as well as the families and wider community affected by HIV.
AHOPE currently looks after 66 children across 5 group homes in Addis Ababa, but supports over 700 other beneficiaries through their programmes centred around family preservation, economic empowerment and education for children as well as any breadwinners in the family, improving their employability and creating sustainable futures.
The AHIF team had the chance to visit AHOPE's headquarters in Addis Ababa and spend some time with the children to learn more about the charity's incredible work.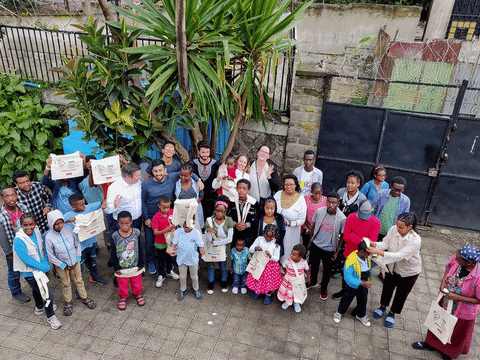 AHIF Delegate Bags
The AHIF 2019 delegate bags were custom-made in support of Our Father's Kitchen, a community kitchen that feeds underprivileged children. OFK is a non-profit project initiated by The Lime Tree in Addis Ababa, Ethiopia.
Each AHIF delegate bag provided 3 meals to school children living in severe poverty, a total of 1200 meals sponsored by AHIF. No child can concentrate on an empty stomach, and we are proud to contribute to OFK's efforts to fight malnutrition and ensure that children don't go to school hungry.